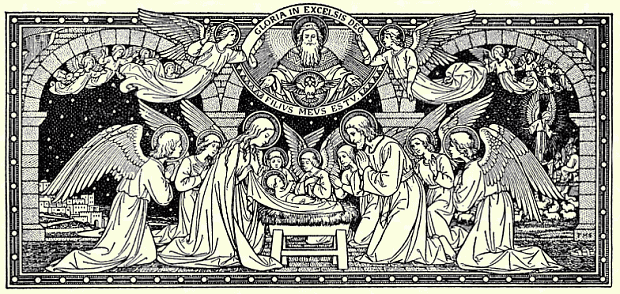 The Prayers in Latin and English
http://www.scribd.com/doc/2911881/The-Rosary-in-17-Languages
Begin with the Sign of the Cross
Sign of the Cross
In the name of the Father+, and of the Son+, and of the Holy Ghost+. Amen.
Signum Crucis
In nomine Patris, et Filii, et Spiritus Sancti. Amen.
-----
Apostles Creed

I believe in God the Father Almighty, Creator of Heaven and earth; and in Jesus Christ, His only Son, our Lord, Who was conceived by the Holy Ghost, born of the Virgin Mary, suffered under Pontius Pilate, was crucified, died and was buried; He descended into hell; the third day He arose again from the dead; He ascended into Heaven, and sitteth at the right hand of God, the Father Almighty; From thence He shall come to judge the living and the dead. I believe in the Holy Ghost, the Holy Catholic Church, the Communion of Saints, the forgiveness of sins, the resurrection of the body, and life everlasting. Amen.
Credo in Deum Patrem omnipoténtem, Creatórem cæli et terræ. Et in Iesum Christum, Fílium eius únicum, Dóminum nostrum, qui concéptus est de Spíritu Sancto, natus ex María Vírgine, passus sub Póntio Piláto, crucifíxus, mórtuus, et sepúltus, descéndit ad ínfernos, tértia die resurréxit a mórtuis, ascéndit ad cælos, sedet ad déxteram Dei Patris omnipoténtis, inde ventúrus est iudicáre vivos et mórtuos. Credo in Spíritum Sanctum, sanctam Ecclésiam cathólicam, sanctórum communiónem, remissiónem peccatórum, carnis resurrectiónem, vitam ætérnam.
-----
(3 Hail Marys)
((Announce The Particular Mystery On Each Large Bead)Our Father)
The Lord's Prayer (Once Before Each Decade)
Our Father Who art in Heaven, hallowed be Thy Name; Thy kingdom come; Thy will be done on earth as it is in Heaven. Give us this day our daily bread, and forgive us our trespasses, as we forgive those who trespass against us, and lead us not into temptation, but deliver us from evil. Amen.
Oratio Dominicae (Pater noster)
Pater noster, qui es in caelis, sanctificetur Nomen Tuum. Adveniat regnum Tuum, fiat voluntas Tua, sicut in caelo et in terra. Panem nostrum quotidianum da nobis hodie, et dimitte nobis debita nostra, sicut et nos dimittimus debitoribus nostris, et ne nos inducas in tentationem, sed libera nos a malo. Amen.
The Angelic Salutation (Hail Mary)

[Pray ten times]

Hail Mary, full of grace, the Lord is with thee; Blessed art thou amongst women, and blessed is the fruit of thy womb, Jesus. Holy Mary, Mother of God, pray for us sinners, now and at the hour of our death. Amen.
Salutatio Angelica (Ave Maria)
[Pray ten times]
Ave Maria, gratia plena, Dominus tecum; Benedicta tu in mulieribus et benedictus fructus ventris tui, Iesus. Sancta Maria, Mater Dei, ora pro nobis peccatoribus, nunc et in hora mortis nostrae. Amen.
(At the End of Each Decade)
The Minor Doxology
(Glory Be)
Glory be to the Father, and to the Son, and to the Holy Ghost, as it was in the beginning, is now, and ever shall be, world without end. Amen.
Doxologia Minor (Gloria Patri)
Gloria Patri, et Filio, et Spiritui Sancto, sicut erat in principio, et nunc et'semper, et in saecula saeculorum. Amen.
The Fatima Aspiration (O my Jesus)
Oratio Fatima (O mi Iesu)
0 my Jesus, forgive us our sins, save us from the fires of Hell: lead all souls to Heaven especially those who are most in need of your mercy.
Domine Iesu, dimitte nobis debita nostra, salva nos ab igne inferiori, perduc in caelum omnes animas, praesertim eas, quae misericordiae tuae maxime indigent.
----------------------------
Announce the next mystery, and so forth, and start with the Our Father again.
1 Our Father-10 Hail Marys-1 Glory Be
The Fatima Aspiration is said after the Glory Be.
=========================================================================
Prayers at the Conclusion of the Rosary
(Presented Here in English Only)
Hail, Holy Queen, Mother of mercy, our life, our sweetness, and our hope. To thee do we cry, poor banished children of Eve, to thee do we send up our sighs, mourning and weeping in this valley of tears. Turn then, most gracious advocate, thine eyes of mercy toward us; and after this our exile, show unto us the blessed fruit of Thy womb, Jesus. O clement, O loving, O sweet Virgin Mary.
P. Pray for us, O Holy Mother of God. R. That we may be made worthy of the promises of Christ.
Let us Pray: O God, whose only begotten Son, by His life, death, and resurrection, has purchased for us the rewards of eternal life. Grant, we beseech Thee that in meditating upon these mysteries of the most Holy Rosary of the Blessed Virgin Mary, we may imitate what they contain and obtain what they promise, through the same Christ our Lord. Amen.
Saint Michael the Archangel, defend us in battle; be our safeguard against the wickedness and snares of the devil. May God rebuke him, we humbly pray; and do Thou, O Prince of the Heavenly Host, by the power of God, cast into hell Satan, and all the evil spirits who prowl about the world seeking the ruin of souls. Amen.
Optional Closing Prayers
May the Heart of Jesus in the most Blessed Sacrament be praised adored, and loved with grateful affection at every moment in all the tabernacles of the world even until the end of time.
O, St. Joseph, whose protection is so great, so strong, so prompt before the throne of God, I place in you all my interests and desires. O, St. Joseph, do assist me by your powerful intercession, and obtain for me from your divine Son all spiritual blessings, through Jesus Christ, our Lord. So that, having engaged here below your heavenly power, I may offer, my thanksgiving and homage to the most loving of Fathers. O, St. Joseph, I never weary contemplating you, and Jesus asleep in your arms; I dare not approach while he reposes near your heart. Press Him in my name and kiss His fine head for me and ask Him to return the Kiss when I draw my dying breath. St. Joseph, Patron of departing souls - Pray for me. Amen.
St. Therese, the Little Flower, please pick me a rose from the heavenly garden and send it to me with a message of love. Ask God to grand me the favor I thee implore and tell Him I will love Him each day, more and more. St. Therese of the Holy Face of Jesus, pray for us. Amen.
Remember, O most gracious Virgin Mary, that never was it known that anyone who fled to thy protection, implored thy help, or sought thy intercession, was left unaided. Inspired with this confidence, I fly unto Thee, O virgin of virgins, my Mother. To Thee I come, before Thee I stand, sinful and sorrowful. O Mother of the Word Incarnate! Despise not my petitions, but in Thy mercy, hear and answer us. Amen.
The Miracle Prayer
Lord Jesus, I come before you, just as I am, I am sorry for my sins, I repent all of my sins, please forgive me. In your name, I forgive all others for what they done against me. I renounce Satan, the evil spirits and all their works. I give you my entire self, Lord Jesus, now and forever, I invite you into my life, Jesus, I accept you as my Lord God and Savior. Heal me, change me, strengthen me in body, soul and spirit. Come, Lord Jesus, cover me with your precious blood, and fill me with your HOLY SPIRIT, I LOVE YOU LORD JESUS. I PRAISE YOU JESUS, I THANK YOU JESUS. I shall follow you every day of my life, AMEN.
Mary my mother , Queen of Peace, St. Peregrine, the cancer saint, all you angels and Saints please help me. Amen.
Say this Prayer faithfully, no matter how you feel, when you come to the point where you sincerely mean each word, with all your heart, something good spiritually will happen to you. You will experience Jesus, and He will change your whole life in a very special way. You will see.
(Fr. Peter Mary Rookey, OSM)
Note:
It is recommended by Our Lady that one pray all 15 mysteries in a day, which can be easily achieved by praying the particular mysterys 3 separate time of the day. This aids in better concentration and efficiency and is best for those who are unable concentrate effectively for long periods of time. Aquiring a regular habit of recitation in the morning, noon and night is the best method. Silence is Golden in the true spirit of contemplative prayer, but some find it useful to incorporate some gentle music, such as the Gregorian Chants, or other holy liturgical music. There are many CD's online available that aid in the recitation with both spoken words and beautiful music for every taste. One should avoid distractions as best as possible, and seek out a place where one will not likely be disturbed.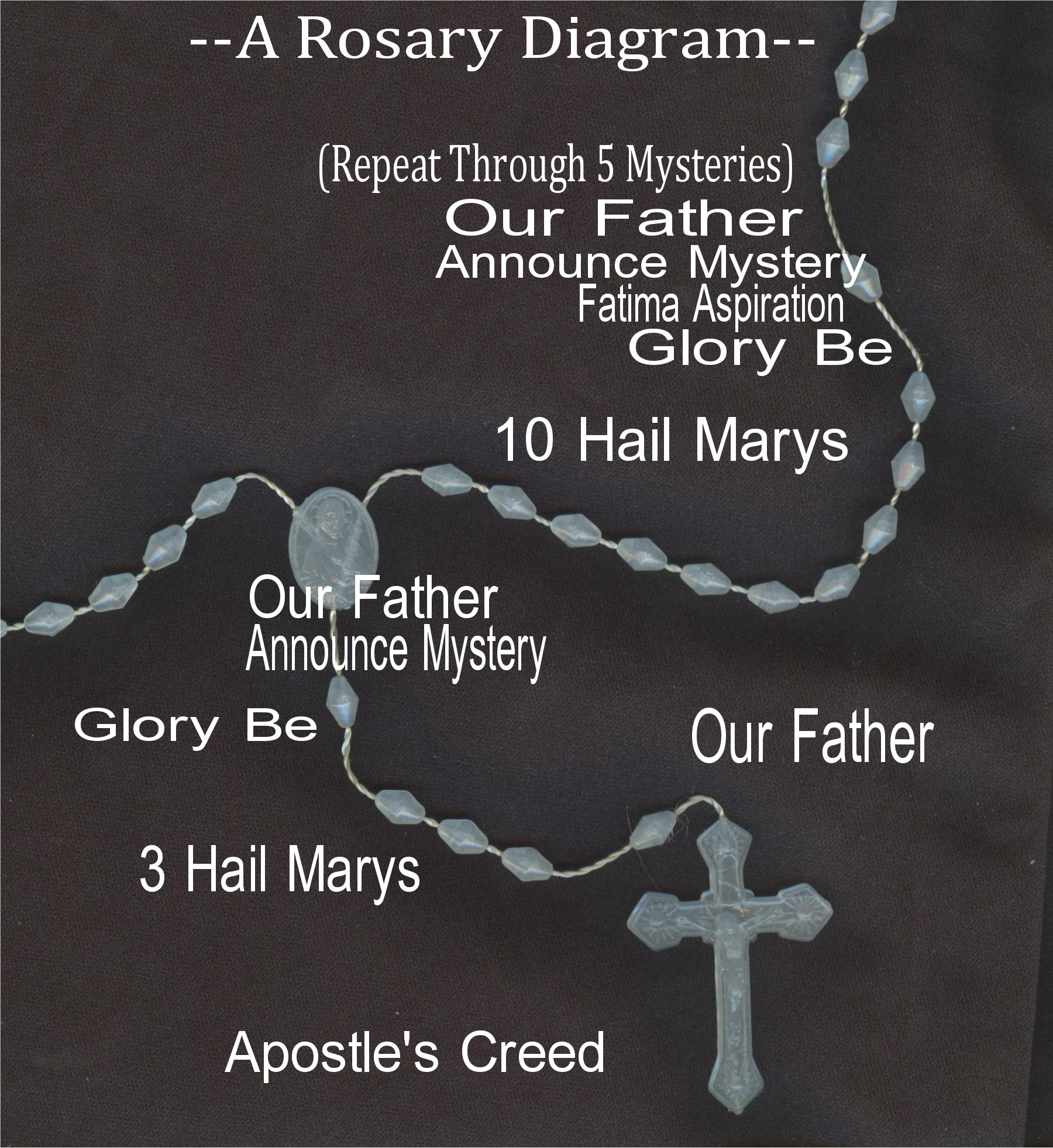 A Useful Booklet to Print and Use